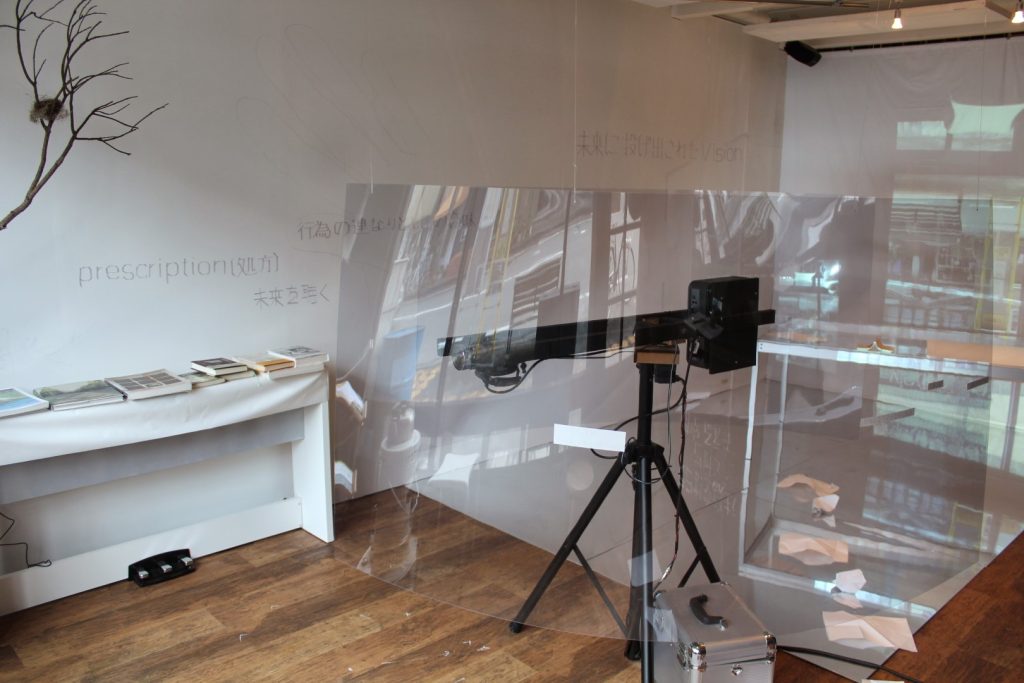 Installation (Open Studio) / Performance
Construction: Richi Owaki, Ryuichi Tani
Cooperation: Kyoko Ifuku
Artist residence in Studio IMAICHI, Studio IMAICHI (Yamaguchi JP 2014)
A work with Ryuichi Tani in a one-month open cooperative project and exhibition.
Memory has different faces ranging from working memory, which is short-term memory, to various memory levels. I assumed that conscious has different faces too. We experimented to schematize the relationship between consciousness and instinct.
劇作家の谷竜一との共同公開制作と展示を約1ヶ月にわたり行った。記憶には、ワーキングメモリー(短期記憶)を始め様々な段階があることが知られているが、意識にも深度や段階があるのではないかと考えた。この制作ではこの点に注目した。
A work with Ryuichi Tani in a one-month open cooperative project and exhibition.
Memory has different faces ranging from working memory, which is short-term memory, to various memory levels. I assumed that conscious has different faces too. We experimented to schematize the relationship between consciousness and instinct.
First, we connected the camera with the projector and projected the image currently shot on the camera on a white wall. The camera and the projector were then put together back-to-back, and were on a turntable, circling at a constant speed. We had a huge window and an entrance that showed views of outside, so we set the camera in the window and projected the picture on the opposite white wall.
Next, we wrote letters on the white wall and then keywords that had meanings opposite of the initial words on the windows and transparent plastic boards to be able to shoot the key words by camera. Keywords were mapped on the letters on the white wall with a projection by shooting them with a camera. We intended to write in the theme of acting and vision.
On the white wall, we additionally traced the landscape outside with India ink. The other day, we recorded a dance with a female dancer with this camera system. On the last day, we erased the wall paintings with white except for a small part.
まず、カメラをプロジェクターに直接つなぎ、今撮影されている絵をプロジェクションできるようにする。カメラとプロジェクターは背中合わせでターンテーブルに乗せ、一定速で回転させる。展示スペースには大きな窓と入口があり外の景色が見えるので、カメラを窓に向け、反対側の白壁に窓の外の絵がプロジェクションされた。
次に白壁に字を書き、それと意味が反転して読めるキーワードをカメラで撮影出来るように窓や透明のプラスチック板に書いた。キーワードは、カメラで撮影され、プロジェクターで白壁の文字の上にマッピングされた。この時「行為とvision」をテーマに文字は書き進められた。
白壁には文字以外に、外の景色を墨でトレースした。また別の日には、妻(ダンサー)とその会場で踊ったものを、このカメラシステムで録画した。それを再生し、再び白壁にトレースした。最終日には一部の壁絵を残し全て白く塗りつぶされた。